Reasons to choose Lions
British Lions - an original three-dimensional integrated service system: tutors, teachers, planners.
The education brand that understands international students best in North America. It has trained 7,000+ students in six years and has gained thousands of offers from top universities.


Ping An Life Life Planning Course
John, the founder of Yingshi Education, trained the management of Ping An Life Insurance on the themes of "breaking the situation" and "improving employees' work happiness". It is hoped that the analysis of the current situation, the analysis of employees' mentality and the suggestions for future development can help Ping An Life to break through the situation and continue to lead the entire Chinese insurance industry.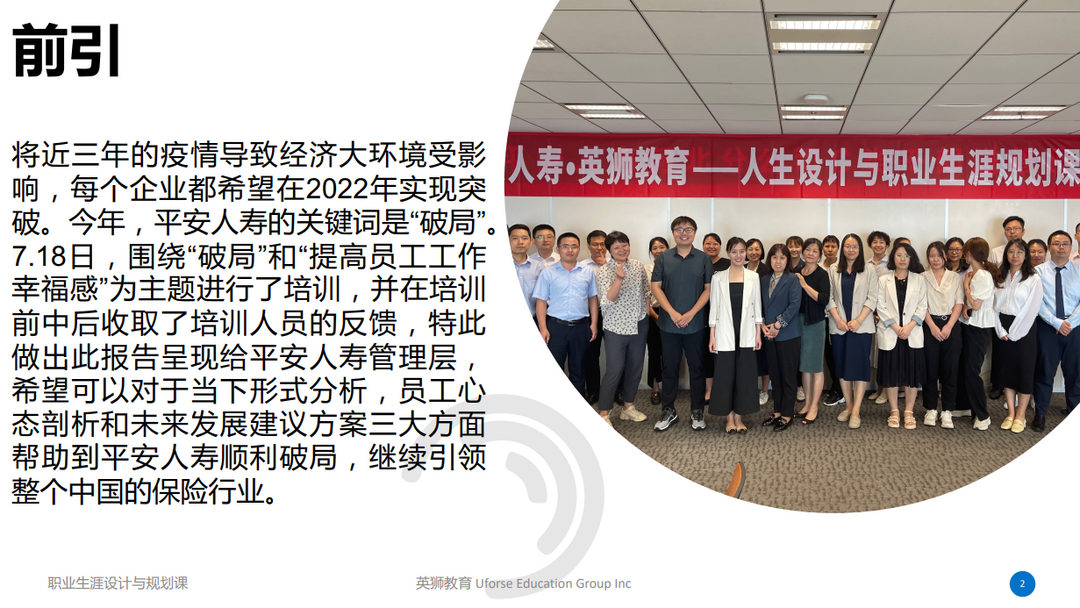 Focus on North American students
You will never be alone on the road of building your dreams
See what parents have to say
The child is home safely, and I am so excited to come back. I feel that this entrepreneurial competition is great, I can learn a lot, and at the same time, I have discovered my own shortcomings! He felt very good about the Ulion team at this event. It was formal, professional and had a good atmosphere. After coming back, he was full of positive energy and carried out self-criticism, which has never happened before! !
Very good. It will have different inspirations for improving parent-child relationship and helping children adapt to the new environment. It will benefit parents of lower grade students a lot. Thanks to Yingshi for providing such a good learning platform.

Hello Kiki, I am very happy that the child has successfully passed the European competition. Thank you for your warm and meticulous service and the dedicated and efficient teaching of the teachers. I am very satisfied with the great progress of the child. Waterloo is a child's dream school. Is there a CCC computer competition class in the Lions recently? He has a foundation in programming and a strong interest to support him in continuing to challenge himself, and it would be great to realize his dream with the help of Ulion.
Thanks! Accompanying her daughter through the Yingshi team for one year, you have worked hard, the child is lucky that the application team led by Mr. John gave her important guidance when she was at a low point in her life, and received strong support from the principal and teachers in the new school. With support and encouragement, her universe exploded, thank you all!
Hello Mr. Helen, do you still remember me? Through your introduction, we signed a contract with Yingshi for planning and lesson packages with Mr. Kiki in North York. Kiki is a very serious tutor, John is a clear-minded planner, and the child is very satisfied ,thank you for your help!
The next university stage will inevitably make you worry. With your backing, I think Sam is full of confidence in his studies! As soon as I said that the one-year elimination rate of the university is also very high, people say that there is no way, isn't it under the guidance of the teachers of Ying Shi? Thank you kiki, for your patient help for so long, I ask you everything. With your help, Sam will successfully complete the application. The child's admission to the University of Skate and Queen's University is the result of the help of the British Lions teacher! Teachers provide careful guidance for university application and document submission. Course tutors are patient and meticulous. All teachers are tireless and considerate of students. Thank you teachers for everything you do for your children. Thank you Yinglion Education! Seriously, Ying Lion Education is trustworthy! !
Audrey has just received Queen's Acceptance! ! Thank you teachers, thank you so much to the teachers of Yingshi, thank you teacher John! thanks everyone! I didn't expect my Audrey to be really powerful. Isn't this a walking offer harvester? Before, the mother was really full of anxiety and worry about her daughter. John, thank you for the talk at the end of 2017, which gave Audrey a lot of motivation and confidence. At that time, my mother was extremely suspicious of her, and she was extremely confused about her own direction. It was you who pulled her at a critical moment. When she finished talking and then came in, her eyes lit up, which I felt very deeply. of. After the two of us went out, for a long time, she gave herself motivation and encouragement with your encouragement and appreciation. Thank you very much.
The child's self-esteem is too strong, and the current state of mind. Your analysis is too thorough. I still have time to trouble you to continue to care about her. And then further guide, dredge it up. If she has any emotional problems, I will tell you in time. It's amazing, no wonder the analysis can be so thorough, so that the child is convinced. It seems that looking for Yingshi to hand over the child to you is the right person.
It is very gratifying for the children to have your help abroad. Thanks to the teachers, thanks to Ying Lion, how to plan the university, and to continue to cooperate and exchange with Ying Lion to take it to a higher level.