Listen to what the first place in the 18th British Lions Education Business Competition said?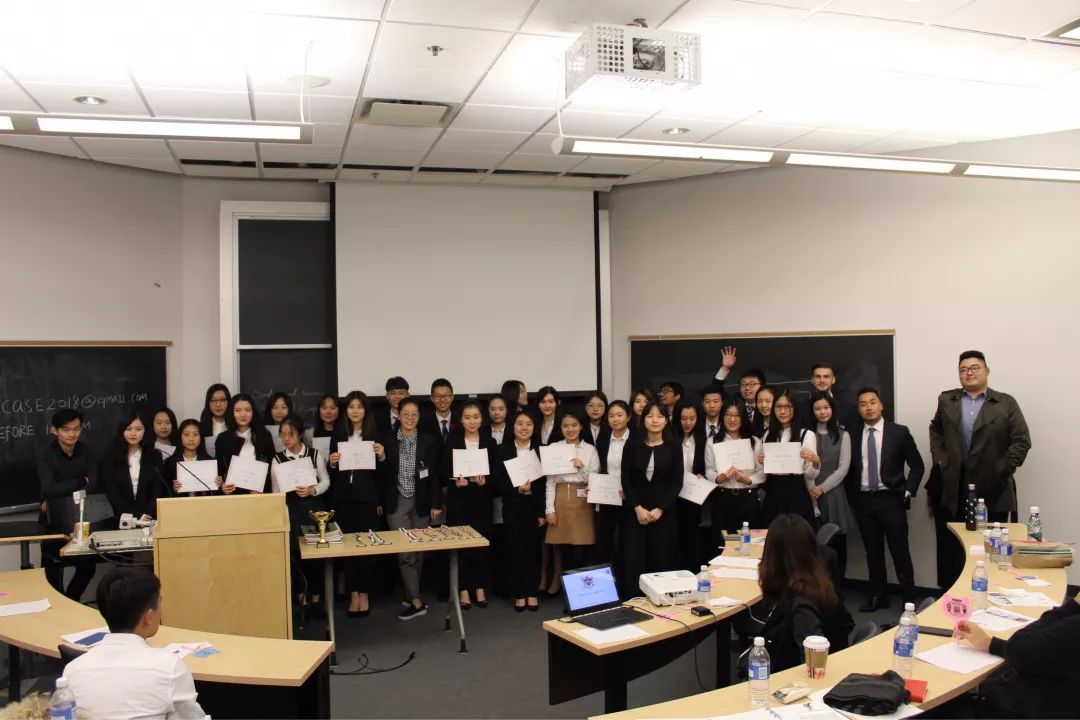 With the successful conclusion of the Case Competition of Ulion Education, the small partners gained experience in business competitions, experienced the atmosphere of debate and expression at the Rotman School of Business, University of Toronto, and also gained valuable Networking experience and guidance from business leaders .
The interview I bring to you today is Hannah, a student who won the first prize in the Ulion Case Competition.
Editor : Hello Hannah~
Hannah: Hello!
Editor : First of all, congratulations to you and the team members for winning the first place in the business competition~! Amazing!
Hannah : Thank you
Editor : Why are you interested in business?
Hannah : Mainly because my parents are both in business, so I know a little bit about business more or less, and I actually like watching business war movies. I also plan to study business in college. I feel that business is more in line with real life, and I can understand it better, mainly because I am really not suitable for science, haha.
Editor : How did you come up with the idea of participating in the business competition?
Hannah : I choose to participate in the business competition because I think it is a good opportunity to exercise myself, improve my presentation ability, the ability to analyze cases and teamwork, etc., and I will meet some children's shoes who are also interested in business. (Whisper: The rewards are also very attractive.
Editor : The success of participating in the business competition is also inseparable from the cooperation of your team members. Would you like to introduce the team members here? Let everyone get to know you~
Hannah : The teammates are two academic masters, Kevin and Adib. We are both classmates from the same school. Kevin is a half international student (born in Canada), his ideas are very good, and Adib is a local student, so I was almost carried by them. So choosing the right teammates is very important.
Editor : What kind of cooperation model is it? Everyone is more curious.
Hannah : Each of us has a different division of labor. In the group stage, each of us is responsible for a part, and then we help each other to think of ideas, because everyone has different opinions. The extra work is that I am responsible for the ppt beautification, Adib is to help us correct some grammar mistakes and so on, and Kevin is responsible for thinking of some ideas.
Editor : How was the cooperation process? Do you have any feelings haha.
Hannah : As for the feeling of cooperation, it feels like a good fit. Everyone has taken this competition very seriously, and has repeatedly revised our ppt. It can be said that everyone has done their best.
Editor : Have you been preparing for this business competition for a long time? How do you feel about the business game?
Hannah : At the time of the group stage, about 3 days after the case was issued, we each wrote our own analysis of the case and our own opinions, and then when we ate together at noon, we divided each person in charge of the part. , so our efficiency is still relatively high. Later, after finishing the ppt, it was also sent to our business teacher, asking her to give us some opinions. The day before the competition, we had a video call for nearly 3 hours in the Final round, and we were in a hurry, but we were still preparing our own parts according to what we had previously divided, so it was really important to have a clear division of labor.
I didn't feel very nervous during the competition, but it seemed that a tendon was tense all the time, so after we finished speaking, I felt that the whole person was soft, as if the tense string suddenly relaxed, but Still enjoying the game.
Editor : Wow, that's great! How does it feel to win an award? happy?
Hannah : I must have been very happy when I won the award. After all, this is my first time doing a business competition and I have won the award through my own efforts (hard-won). I feel quite fulfilled.
Editor : So do you think business competition is helpful to you?
Hannah : The biggest help for me in the business competition is that it helps me to be more certain about my decision to study business in the future. During the whole preparation and competition process, I did not feel any negative pressure or negative emotions, but I enjoyed it quite a bit. of the entire process. Participating in the business competition has also made me more interested in business, and I have greater confidence in being able to study business well. Through the judge's evaluation, I also know my own shortcomings, so I am especially grateful for this business competition organized by the British Lions, which has made me more interested in business.
Editor : We are really happy to help you. Do you have any advice for your friends to share?
Hannah : The suggestion for some friends is that children's shoes who are still confused can choose to participate in different competitions or choose different courses to determine the major they really want to study or the university they want to go to. Because when you have your own goals, you will really be full of energy, and you will save a lot of time to spend on more meaningful things, so you will be in a good mood every day. When you are admitted to your favorite university or major, you will definitely thank yourself for working hard at that time.
Editor : Well said! I also hope that you will work hard towards your goals and realize your dreams! Thanks Hannah!
Thanks to Hannah, the first place in the Ulion Education Business Competition
Share her feelings and experience with us. In the future, Ulion Education will also bring you more high-quality opportunities and internships. I hope you will continue to pay attention~
If you are also eager to apply, you want to apply to the top universities in Canada
But I don't know how to do background enhancement
No matter where you are in high school
Or have any questions about studying abroad
Now is the best time to start preparing!
👇Scan the QR code of the academic advisor for free consultation
---