Obtained one of the only four seats for Chinese admission in Queens Business School! How did she do it?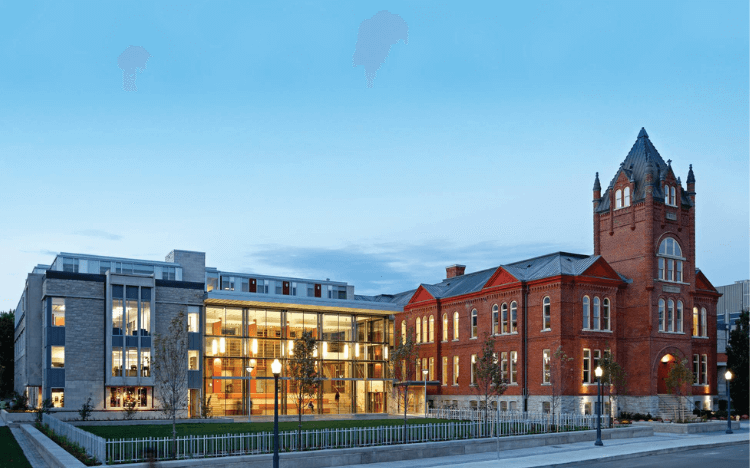 British lion planner: Sylvia
Education: Queen's University Smith School of Business Scholarship 2000
University Offer: Waterloo AFM 2500 scholarship; University of Toronto Rotman School of Business; University of Toronto Scarborough campus coop+1500 scholarship; University of Toronto Mississauga campus business +2000 scholarship; McMaster University mathematics major; University of Ottawa business coop+ 6000 scholarship
experience:
Queens University Leonard Hall freshman representative, freshman event planner, dormitory committee representative
Co-founder of Yingshi CTC Platform
During high school, he was a planning student for British Lions University.
85 points were admitted by major business schools (Queens Business School, Rotman School of Business, University of Toronto, etc.), and 93 points graduated
Design style : humorous, lively, meticulous and accurate
Editor: Can you briefly introduce yourself first? Including high school and university application directions~
Sylvia: My name is Sylvia, and I came to Canada to study high school four years ago. I have been in St Robert chs since the 10th grade. Now I am a freshman in the Smith School of Business of Queen's University.
Editor: I want to know how you chose the business school? Is there any opportunity?
Sylvia: In fact, I never thought about studying business a long time ago. I planned to be a doctor or an architect at the beginning. At that time, I worked hard to learn sketching in order to study architecture 😂 I also studied chemistry in order to study medicine. But when I was in the first semester of the 11th grade, I found that I didn't like science so much, and it was difficult for me to understand abstract things. Then I found that I prefer some meaningful new things. At that time, I went to take econ and accounting. Although the grades were not very good, I had a general understanding of business at that time, and then I thought it was interesting that money can make money. . After all, I think my biggest hobby is making money and seeing a lot of money. Later, I found that I had some management and leadership skills, so I became more interested in business management and business analysis. When I was in grade 12, I participated in the stock competition in rotman. I saw the building of rotman's graduate student was very beautiful (after all, I also wanted to be an architect). Work hard on the rotman!
Editor: Which university offers did you receive at that time?
Sylvia: I received Queens Commerce/Rotman Commerce/Waterloo afm/UTSC BBM at that time. The majors I applied for were all business majors . Because I knew my strengths were not in quantitative subjects, I didn't choose many majors with strong mathematics.
Editor: In addition to grades, what other preparations have you made for the business school application?
Sylvia: Seriously, I couldn't believe I could do it until I got the acceptance letter. Because I was trying to prepare for the grades in the preparation application for the business school, and the grades were too poor. However, poor grades can also be supplemented through extracurricular activities! My extracurricular activities in the three years of high school were very rich. In the tenth grade, I would apply for volunteer work every day.
Editor: In your opinion, in terms of the several business schools you applied to, what are the key points when applying?
Sylvia: Rotman may focus more on technical skills, and Loo's Afm may also focus on hard skills; these learning strategies that require reading and doing questions every day are really not suitable for me, a "trouble maker" who is too active every day because I am a I am in Queens Smith, so I have a deep feeling for smith because it is very suitable for me. Many people think that Queens is very easy academically, but it is not. Although it is not as low as rotman, it is not easy to get a good GPA in Queens. The business management class of Queens freshman will let everyone form a small team, establish their own company, design products including product concept, market model...forecast and so on...I have really come into contact with western ivey since freshman year It's something you only have in your junior year~~ It's said that ivey is case learning, and many of Smith's courses are also based on case study! In short, Smith is the best place for you to improve your business skills.
Editor: Do you love volunteering in high school? Can you share some interesting experiences? Or how should volunteer opportunities be chosen?
Sylvia: I love volunteering so much. I have accumulated more than 200 volunteer hours in high school , and there are many unrecorded volunteer hours! I once participated in the Scotia Bank Marathon Volunteer organized by British Lions Volunteers, where I also met two rotman sisters! It really helped me a lot during my application process! I think the British Lions Volunteer Association is really suitable for those who want to find volunteers! Nancy has a lot of volunteer resources and this big sister of rotman will help everyone to ensure the quality of volunteers~~ It saves a lot of effort! Facebook event is also a good function, where you can find your favorite volunteers and activities.
Editor: Business competitions are very important for students applying to business schools. What experience do you have to share?
Sylvia: If you are a friend of aim for rotman, you must take good care of rotman's case competition and stock trading competition, etc.! The ranking is suddenly not important, but you are likely to shake hands with the admissions officer face by face! I remember shaking Jefferey's hand when I participated in a stock trading competition! Many friends who want to go to RC are very touched that they have this opportunity! The uforse case comp held by Wssc is also held in rotman, and there is also a super rotman tutor sitting in the judge! Don't miss the opportunity to network! Know more gossip and add more LinkedIn~
Editor: Has British Lions helped you a lot? Knowing that you are still the person in charge of several of these projects, can you introduce them?
Sylvia: The British Lions really saved my dying college application in my senior year, because my grades were not high, so it largely relied on my soft skills. Teacher Tracy is super nice to help me, and her words always bring me back to life. Every time I read Queens PSE, I feel like I have gone to college. British Lions also gave me a lot of help in my later development, providing me with a lot of resources to develop the team, which is now Uforse CTC . When we were discussing the construction of CTC, we wanted to make it Become an organization for everyone to exercise themselves. There are different jobs for everyone to choose from. For example, the anchor of the live broadcast is actually very obvious. For example, it can improve their public speak, self awareness, and most importantly, a little bit of profitable business Know, when you are getting gifts, the kind of profit you get through your own efforts and communication is really very happy!
Editor: Is there anyone (teacher/classmate/parent) who has played a guiding role in your path choice?
Sylvia: I think Mr. John really helped me a lot. I remember that everyone was a little anxious every day when I didn't receive the admission. After all, it is different from the local students. At worst, I can stay here. International students may be very limited, and it really hurts not to receive an offer from a dream school. At that time, John often used some data to support my wounded heart, and then helped me compare when I got two offers that I liked very much. John helped me analyze my pros and cons, told me the situation of each school, and really solved my concern with professional knowledge. Facts have also proved that smith is indeed more suitable for me.
Editor: Is there an event that impressed you deeply (high school students will resonate) and has a turning point for you that you can share?
Sylvia: Growth mindset is too important. When I was in high school, I was a very positive person in grades 10 and 11, and I would not be scared by a little setback. But the year 12 university application made me aware of the competition and now OUAC is just starting to register! Remember it is not too late for self awareness! Because I was like that last year. To do something, you must do it because you like to do it. Don't learn it because you think it will make me look smart. You must have a good position for yourself (otherwise you will waste three years looking for Your own goals) Don't embarrass yourself too much, make a schedule for yourself (I only learned it in the 12th grade....) and look at your goals and tasks. Balance your time for socializing and studying (the most important thing is your health! Be sure to sleep)
Editor: Based on your own experience, what are some good suggestions for the current 11th/12th grade high school students (especially those who want to apply for business school) to prepare for the timeline of university?
Sylvia : I think during this period of time, everyone can hurry up and enrich their background. Now in November, you should have at least 6.5 IELTS as a guarantee. You can continue to improve your writing and speaking in loo, and you should still have an overall of 6.5. (Hurry up and sign up for IELTS classes)
If you are also eager to try and want to apply to top universities in Canada
But I don't know how to do background enhancement
No matter where you are in high school
or have any questions about studying abroad
Now is the best time to start!
👇Scan the QR code of the academic advisor for free consultation
---