Business and industry mixed application, won a scholarship of 40,000 dollars! The Lions students are so outstanding! !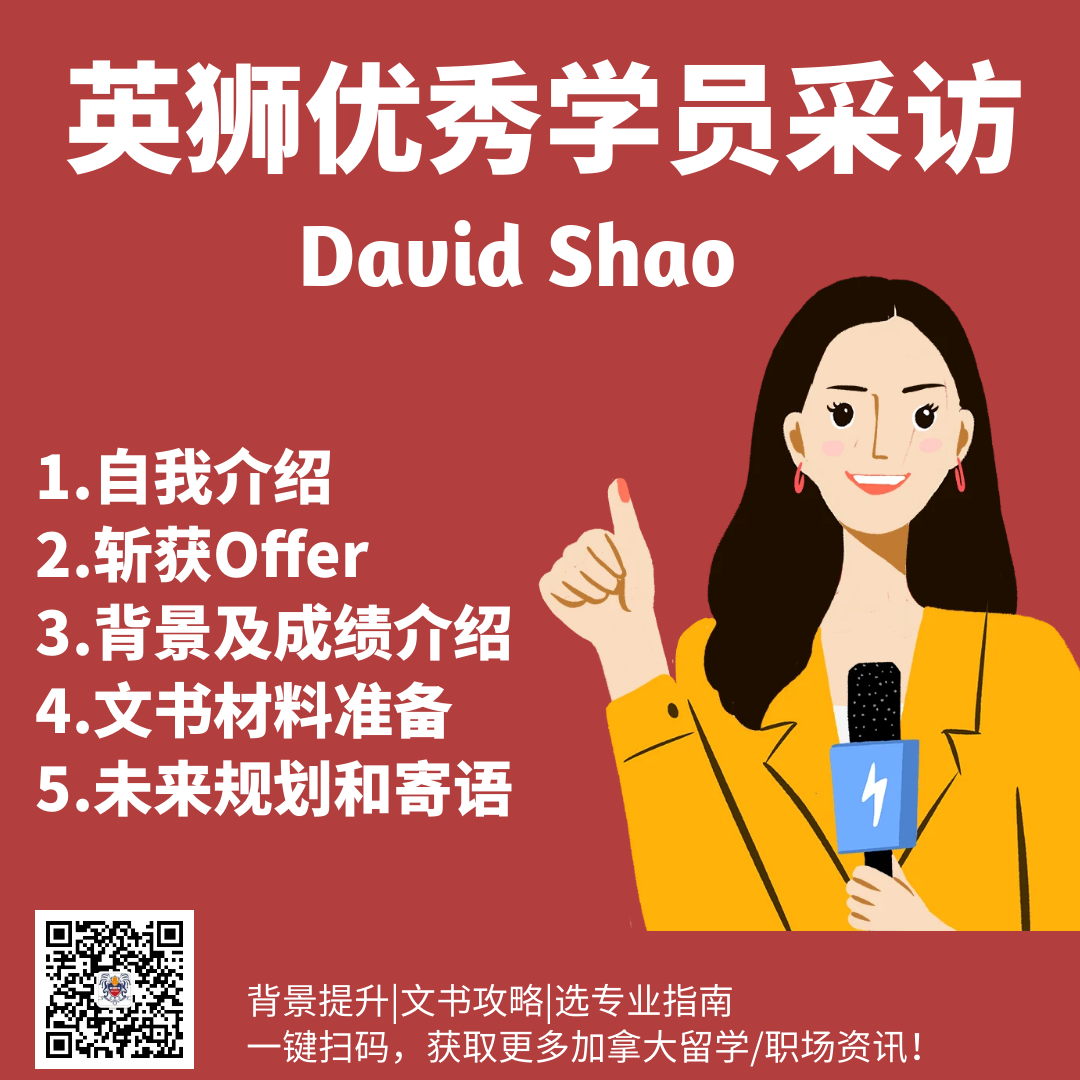 Ulion star student David Shao
01
Application background
Hello everyone, my name is David Shao, and my high school is Holy Trinity School. The average grade of eight subjects in grade 12 is 97. The main areas of application are engineering and business. When I applied to universities, I only applied to three universities, namely: University of Waterloo, University of Toronto, and Western University. Favorite majors are: Rotman Commerce, TrackOne Engineering, Western Ivey, and Waterloo Financial Analysis and risk management.
#Offer List
University of Toronto Rotman Commerce
University of Toronto TrackOne Engineering Scholarship CAD40000
University of Toronto Scarborough BBA (Management & Finance) and BSc (Statistics - Quantitative Finance)
University of Waterloo Mathematics/Financial Analysis and Risk Management (Scholarship $2000)
Chemical Engineering, University of Waterloo (Scholarship $2000)
Accounting and Financial Management, University of Waterloo (Scholarship $2000)
University of Western Ontario Engineering (Scholarship $3500),
Management & Organizational Studies, University of Western Ontario (Scholarship $3500)
02
My application advantages
The reason I applied for both engineering and business was to have more options for myself. To be honest, I didn't think about whether I would study engineering or business in the future when I applied to college. Later, when I was studying chemistry in grade 12, I became very interested in organic chemistry and other topics, and I got very good grades in these classes. This is why I chose TrackOne Engineering in the end. My advantage is that my mathematics, physics and chemistry are very good, and I came to Canada in grade 6, so my English level is also very good. Based on these two points, I am quite confident that I can get the offer when I apply for engineering and business majors.
My background experience may not shine like others, but I have been using my personal time to improve my leadership skills. Since grade 9, I have often participated in school clubs and events such as: Hawks Highlights, Eco Team, DECA, Help the Society, etc. In grade 12, I became the club leader of Hawks Highlights and Eco Team.
Outside of school, I often participate in social activities such as: Camp Counsellor, WSSC Public Relations, Guest receptionist for events, etc. These experiences make me an excellent student role model.
Little Lion Tips:
Every year during the application season, students will come to ask our teachers:
Am I ready now?
The business competition is approaching, and the deadline for registration for the competition is over before I come to ask if I can sign up
A day or two before the college application deadline
There are also many people who come to hug the thigh of the lion
What the little lion wants to say is that although our planning tutor is very good
But plan plan! The point is to plan!
In the near future, we will launch a Timeline for the Uionage Lions event in the next few months.
If you have a favorite background promotion activity,
Or don't know which activity to attend will help your application
Welcome to DiDi academic advisors! ,
03
The learning process is not just about improving grades
Mindfulness is also very important!
I think physics and chemistry courses are very important. My 12th grade chemistry and physics were both 98s. These two courses are very important because they can help you improve your logic and thinking skills, which will be very useful to you no matter what you do in the future. Taking a step back, even if I only majored in business, I would still be in high school physics and chemistry.
Little Lion Tips: If you want to apply to the top five business schools or top polytechnics, this means that all your competitors have very strong standardized scores and flashing event materials. This is why there are many students who, despite having an average score of 90+, still fail to receive the offers they want during the application season. The battle to equalize the grades is a tough battle; we have to fight for every point, maybe just one point difference, you will miss your dream school.
Therefore, learn the 12th grade courses in advance in the 11th grade, build a good knowledge framework of basic subjects, and improve the understanding of the knowledge points and frameworks. By familiarizing yourself with the teaching mode and classroom characteristics of Canadian high schools, choosing prerequisite courses can help to pass the important courses of high schools. And get ready for college applications in advance!
In fact, the reason why many students can get close to full marks is not because they are much smarter than you, but because they have studied it in advance! !
There are less than 4 months before the start of grade 12. Instead of waiting until grade 12 to find out that the scores of the three math subjects around you are close to full marks, it is better to take advantage of the summer vacation to overtake!
04
paperwork paperwork paperwork! !
GPA & background materials are available
The paperwork and video interview are ready, and the offer is here!
The video/document teacher I am most impressed with is Teacher Jenny. Teacher Jenny will ask me about my situation and come to help me write essays. She didn't just come to proof-check my writing, but to write the sentences that best express myself based on my situation.
05
The future can be expected
My University Life and Future Career Planning
My ideal college life is to study hard and develop more contacts. After finishing my undergraduate degree in engineering, I will study an MBA to develop myself in many ways. My future career plan is to become an automotive marketing engineer, because I have a background in engineering and business, which can give me a competitive advantage. This is my current plan for the future.
Little Lion Tips: Getting the dream school offer is just the first step in the long road in the future, and congratulations on starting this step. The four years of college are fleeting, and how to make reasonable use of the four years of college to plan for the future is like applying for a dream school step by step!
The workplace enlightenment course can be said to be a compulsory course for college students! As important as your studies in college! Because many workplace skills can also be used in community interviews and Networking, learning workplace skills can not only help you lay a solid foundation for future job hunting, but also make it easier for you to work in the future!
05
Advice for fellow students
I think the best advice is to do more volunteering and social activities in Year 10, Year 11. In Years 10 and 11, there is not a lot of homework, so you have more time for volunteering and social activities. And if you're going to apply for business in the future, these experiences are very important, and universities value them very much. So I suggest that grades 10 and 11 must do more volunteer work and social activities.
11th grade exclusive benefits! !
Sign up now for planning package or university application package
Attention 11th graders! !
You will get free background boost benefits for up to 3 months!
The students who started planning a month ago are already one step ahead of you!
Our recent outstanding student cases have used personal experience
Tell the 11th graders
The importance of prerequisites and background improvement!
Compared to grade 12 restart planning
You still have 3 more months to win at the starting line! !
Hurry up and be the academic advisor of Didi! !
---