Ordinary engineering students who won 5 engineering colleges actually won the offer of Rotman Business School?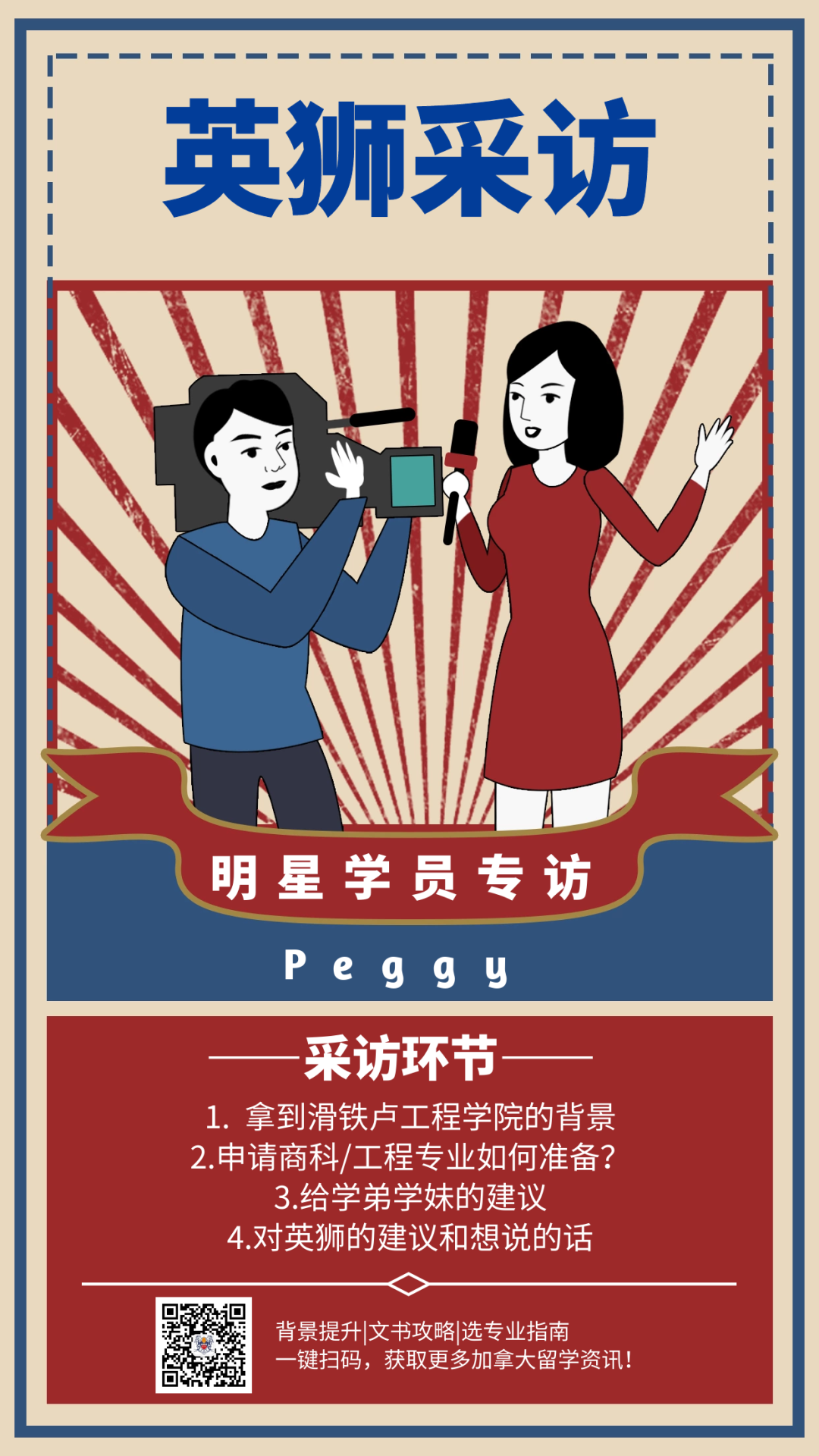 This article interviews students: Peggy
Grade 12 in Ontario private high school.
The application directions are engineering and business.
Later, I found that I prefer to study engineering.
Engineering at Waterloo
It's one of my dream schools.
01
Application background
"
Let's talk about grades first. I've always heard that Waterloo is a school that values ​​grades and competition. That's the way it is. My grade 12 top6 average score is around 95, which is considered to meet the requirements.
Extracurricular activities are also very important. Waterloo's Engineering Admissions has two parts, the essay interview, and there are quite a few questions in the essay.
You really need to have an understanding of this school, an understanding of this major, and enough experience in extracurricular activities to get back to these questions.
The official said that the interview is not necessary, but I heard one of their lectures say that if you do well, you will get extra points, and if you do not do well, no points will be deducted, so this interview video must also be recorded. The interview questions focused on personal experience and professional interest. "
Little lion application tips: Although science and engineering applications do not have activity requirements like many top business schools, some universities, such as the University of Waterloo, hope that students can have extracurricular activities.
Every year, before the application season, Ulion will have requirements and introductions about various universities and majors. Don't miss it, friends!
02
What kind of offers did you get?
There is a Waterloo engineering offer , the condition of this offer is quite low haha, 70% is up to the standard, which is much worse than his admission standard.
Waterloo is a famous school of science and engineering, and engineering majors are compulsory coop, so I am very satisfied with this offer!
In addition to this offer, the business class has also received a lot of rotman.
Engineering class I also received:
UBC Engineering;
MacMaster Engineering;
Western Engineering;
Queen's University Engineering
Waterloo is currently the most ideal offer. "
Little Lion Tips: If you want to apply to the top five business schools or top polytechnics, this means that all your competitors have very strong standardized scores and flashing event materials. This is why there are many students who, despite having an average score of 90+, still fail to receive the offers they want during the application season. The battle to equalize the grades is a tough battle; we have to fight for every point, maybe just one point difference, you will miss your dream school.
Therefore, learn the 12th grade courses in advance in the 11th grade, build a good knowledge framework of basic subjects, and improve the understanding of the knowledge points and frameworks. By familiarizing yourself with the teaching mode and classroom characteristics of Canadian high schools, choosing prerequisite courses can help to pass the important courses of high schools. And get ready for college applications in advance!
03
You have also applied to the top schools in business.
So far, I have received a lot of offers. Which major are you more interested in?
"Yes. I am more interested in engineering. Because the course selection in high school allows me to apply for both engineering and business, but I did not take many business-related courses such as international business and accounting, so I feel that business is not too big. Let's have an advantage. I'll talk to the planner later to make sure."
04
For those who want to apply later
Entering engineering or commerce majors
Do you have any tips or tips to share?



"The grades in the school are better. Participate in more high-quality extracurricular activities and gain something. Plan ahead! It is recommended that juniors and juniors interact with teachers more, keep initiative, and ask questions if they don't understand."
Little Lion Tips:
Every year during the application season, students will come to ask our teachers:
Am I ready now?
The business competition is approaching, and the deadline for registration for the competition is over before I come to ask if I can sign up
A day or two before the college application deadline
There are also many people who come to hug the thigh of the lion
What the little lion wants to say is that although our planning tutor is very good
But plan plan! The point is to plan!
05
Is there anything you want to say to the teachers of the Lions?
Do you have any suggestions for our services?
"Thank you very much to the teachers of Yingshi!! I don't have any suggestions, haha, it's all good! I hope that with the help of Yingshi, more students can find the direction of their interests and successfully get the offer of their dream school."
Little Lion Tips: Getting the dream school offer is just the first step in the long road in the future, and congratulations on starting this step. The four years of college are fleeting, and how to make reasonable use of the four years of college to plan for the future is like applying for a dream school step by step!
11th grade exclusive benefits! !
Now, the 11th grade students who sign up for the planning package or apply for the package in the university pay attention! !
You'll get a free background boost for up to 6 months!
If you are also eager to apply, you want to apply to the top universities in Canada
But I don't know how to do background enhancement
No matter where you are in high school
Or have any questions about studying abroad
Now is the best time to start preparing!
👇Scan the QR code of academic advisor for free consultation
Some Offers to appreciate:
---