GPA96.6 rejected dream school, Ivey Business School: Do you think I still have a chance?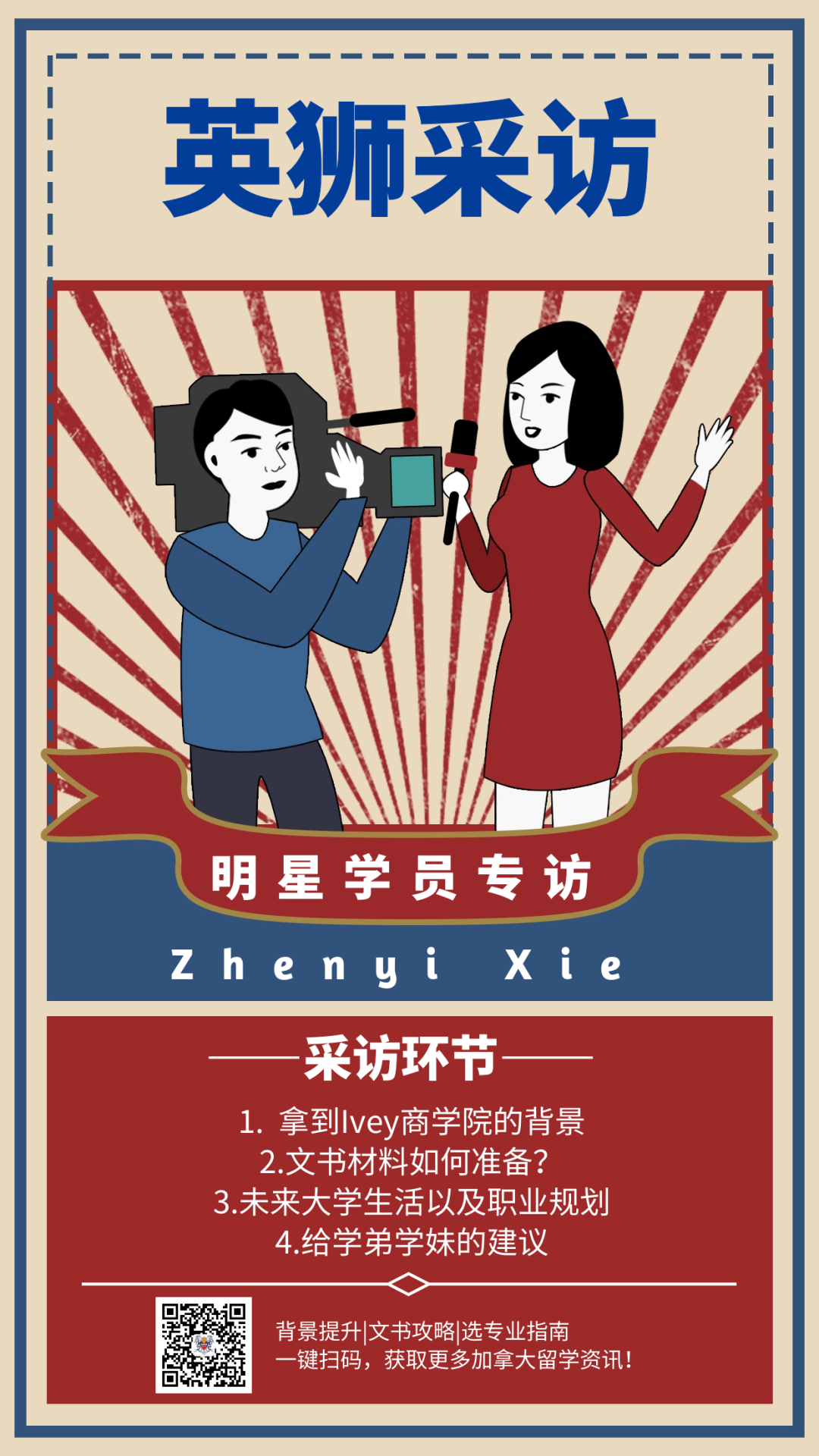 Ulion star student Zhenyi Xie
High School: Notre Dame High School
Application program: Business
#Offer List
University of Western Ontario Ivey School of Business
Queen's University College of Arts and Sciences Scholarship CAD1500
University of Western Ontario BMOS
Social Sciences at the University of Western Ontario
University of Toronto Scarborough BBA
Business at McMaster University
Business at the University of Ottawa
01
Excellent background or rejected by the dream school?
"At Notre Dame High School, my GPA in the current Top 5 courses is 96.6, my grade 11 English score is 78, and my application program is business.
In addition to the schools that already got the offer, I also applied to Dartmouth, but didn't get the offer. "
(Knowledge of Dartmouth College: Dartmouth College (English: Dartmouth College), is a private university located in the town of Hanover, New Hampshire, in the northeastern United States, and a member of the Ivy League.)
Little lion application tips: If you don't get an offer, the university may indeed be looking for students with the traits you want, and it's a two-way choice. Don't be discouraged, there are definitely other colleges for you!
02
When Maxima meets Bole
What experiences made you stand out?
Little Lion asked: The threshold for Western Ivey Business School is very high. From the past experience, very few students can finally get the Ivey admission notice as a high school student. The peak period for colleges to issue offers every year is in mid-May, and you were accepted by Ivey in late March. What experiences do you think made you stand out?
Zhenyi: "The two main activities are: the international student representative of the school student union (1 year) and the vice president of the mathematics club (participating in this club for 2 years, and I also have 5 abbreviated activities, including hobbies, volunteers, business In addition, I think ivey values ​​the leadership ability of students very much."
Little Lion Application Tips: Not only Ivey Business School, Canada's top five business schools, in addition to focusing on students' academic performance, showing your leadership and teamwork skills through activities is also a very important plus! This is also the reason why every year we hope that the students who apply for business can actively participate in our business competition and create a competition!
03
One step at the door
Ivey's preparation experience
Ivey aeo's documents are very special. Every activity needs a reference, so be sure to have a good relationship with the school teacher and the person in charge of the activity.
The two main activity papers are best related to leadership skills, highlighting what you have contributed to the team/what you have changed/brought about, and the rest of the activities I think just show your true self. Each activity needs to fill in the detailed time, you can try to show the process of your own growth.
Little Lion Tips: Ivey Business School's documents need to be prepared in advance when recommending specific activities in humanities writing with key points and highlights.
04
How did the clerical teacher help you?
Teacher Tracy's revision speed is very fast and efficient. I personally like to tell my own stories/chat with others when writing essays to find inspiration. Teacher Tracy chats with me (laughs). Teacher Taylor is also very patient.
Little Lion Tips: A good essay is by no means the same, and each essay teacher has different teaching and tutoring styles, so you still need to find a teacher who fits your own essay thinking/writing habits in order to make your essay stand out!
05
What are your ideal university life and future career plans for the future?
I hope that in college, I can become very social, meet different people, meet a lot of good friends, and then take a good gpa and find an internship. I like chatting with others/listening to other people's stories the most, and I hope to be able to chat with locals in English unimpeded after a few years of university.
Little Lion Tips: Getting the dream school offer is just the first step in the long road in the future, and congratulations on starting this step. The four years of college are fleeting, and how to rationally use the four years of college to plan for the future is like applying for a dream school step by step!
06
Some advice for students in grades 10 and 11
1st grade cubs must study hard . Ivey Business School clearly stated that they will look at grade 11 grades (as stated in the application), participate in more activities, and do more things that you like. Well, previous grades are not important, just learn" and so on .
Everyone's study habits are different. I have seen people who worked hard in the last year of study and finally got into a good program. I have also seen people who tried to work hard in the last year but couldn't keep up. I myself am the kind of person who can't make a sudden effort. From grades 9-12, I put in almost the same amount of effort every year, and of course grade 12 is not particularly tiring. Finally, it is recommended to learn more about your own characteristics, and then make a plan for learning activities.
If you are also eager to apply, you want to apply to the top business schools in Canada
But I don't know how to do background enhancement
No matter where you are in high school
Or have any questions about studying abroad
Now is the best time to start preparing!
👇Scan the QR code of academic advisor for free consultation
Ivey Offer Appreciation:
---