exist? Rotman Business School took the offer secret and borrowed you to copy it?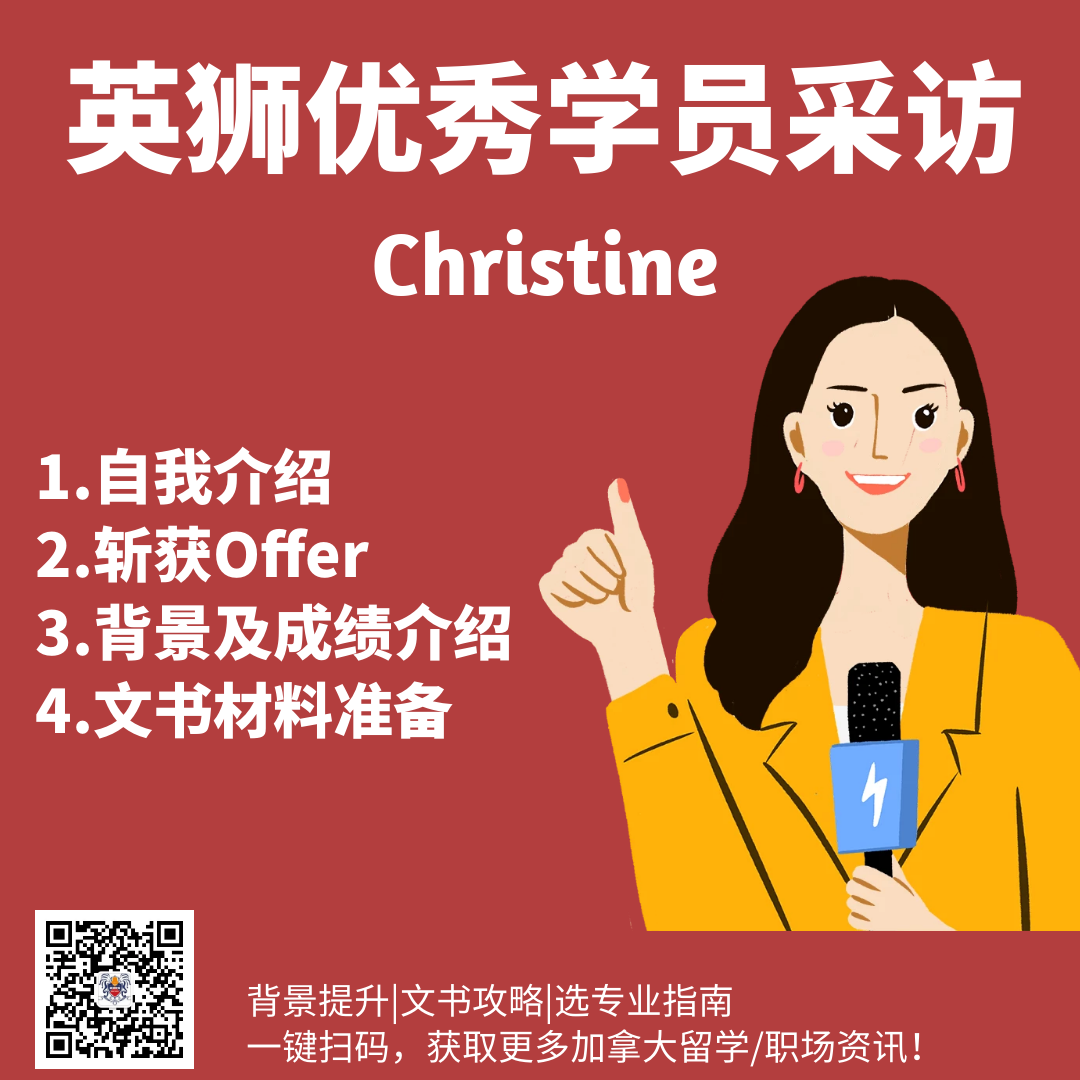 Let's listen to Christine's 6 experience sharing about applying to the Rotman School of Business at the University of Toronto!
01
Application background
Hello everyone, my name is Christine. I wanted to apply for business since I was in the ninth grade, so I started choosing business courses from a very early age in high school, such as Intro to Business and Accounting.
My ideal college for grade 9 is Rotman Commerce at the University of Toronto. So I have been preparing for the Dream Offer!
#Offer List
University of Toronto Rotman School of Business
University of Toronto Scarborough BBA - Scholarship CAD7500
University of Toronto Mississauga Campus Business Program - Scholarship CAD3000
University of Waterloo AFM
University of Western Ontario ED
Business at McMaster University
02
Like many students who got offers from Rotman Business School
My background is not bad
After discussing with the planner about the ideal future major in high school, the mentor told me that if I want to apply to Rotman Business School, the leadership experience will play a crucial role in the business application. Therefore, under the teacher's suggestion, I participated in some club activities during school, and in the process of doing some group assignments, I tried my best to lead the group members to complete the tasks together. These experiences have become a very important highlight in my application for Rotman.
Second, on-campus activities are far from enough, because the same other applicants you have may also have. Therefore, in the four years of high school, you should also participate in some background improvement activities, such as business competitions and DECA. If you can get a good ranking, it will also make you stand out in the application.
Little Lion Tips:
Every year during the application season, students will come to ask our teachers:
Am I ready now?
The business competition is approaching, and the deadline for registration for the competition is over before I come to ask if I can sign up
A day or two before the college application deadline
There are also many people who come to hug the thigh of the lion
What the little lion wants to say is that although our planning tutor is very good
But plan plan! The point is to plan!
In the near future, we will launch the Timeline of the Lions event,
If you have a favorite background promotion activity,
Or don't know which activity to attend will help your application
Welcome to DiDi academic advisors!
03
Participate in so many activities, but also grasp the school results!

GPA93, I have the secret too!
When applying for a business major, not only business scores are important, but some mathematics courses, such as Data and Advanced Function scores are also very important. And math courses are also better. The most important thing is that Calculus is also a very important prerequisite course for applying for business, so its importance cannot be ignored!
I have taken courses in Data, Calculus and Econ in UCI. Teacher Nancy of UCI is very helpful to me in the courses of Calculus and Data. During the class, the teacher will take the initiative to help me grasp the key points and tell me where to focus.
During my class with her, I could feel that she prepared every class carefully and answered my questions patiently. In the early stage of the 12th grade, I was very unconfident in Data, and even thought I had to drop this course. But after teacher Nancy helped me with the prep work, I found the trick, and now the data remains around 94 points.
I got 95+ grades in all of my math courses, which I personally think will help me make up for some of my underachieving grades, such as English for Academic Purposes.
Little Lion Tips: If you want to apply to the top five business schools or top polytechnics, this means that all your competitors have very strong standardized scores and flashing event materials. This is why there are many students who, despite having an average score of 90+, still fail to receive the offers they want during the application season. The battle to equalize the grades is a tough battle; we have to fight for every point, maybe just one point difference, you will miss your dream school.
Therefore, learn the 12th grade courses in advance in the 11th grade, build a good knowledge framework of basic subjects, and improve the understanding of the knowledge points and frameworks. By familiarizing yourself with the teaching mode and classroom characteristics of Canadian high schools, choosing prerequisite courses can help to pass the important courses of high schools. And get ready for college applications in advance!
Learn about the U.S. Lions prerequisite courses? Click the link below to learn about the course!
The easiest and easiest way to apply for the first-quarter points, but it has trapped countless people? I regret that grade 11 didn't take you seriously...
04
About the document:
GPA & background materials are available
The paperwork and video interview are ready, and the offer is here!
My college application essay teacher is Miena, and I think the way she teaches classes is quite suitable for me. The most fearful thing about essays is that they are the same, or your essay teacher is not suitable for you, and the essays written in this way may not achieve the purpose of helping you apply.
The process of teacher Miena coaching me is to help me focus and tell me which part of the interview at which university needs to focus on practice.

For example, the video interview at Rotman Business School, she will first tell me that one of the parts needs attention, because there are many random possibilities. Later, during the video interview, she would also revise my grammar and my sentence structure very seriously. The whole process can be said to be very smooth, time-saving and efficient.
05
The future can be expected
Planning continues...
I think the transition from high school to university is still a big transition, and it still needs some adjustment period, but I'm already full of expectations. My ideal plan should be to maintain a good GPA in undergraduate and then apply for a masters degree in business. Of course, if I can find a suitable coop during college, it will also be a very good experience, which will help my future career choices and the application stage easier.
Little Lion Tips: Getting the dream school offer is just the first step in the long road in the future, and congratulations on starting this step. The four years of college are fleeting, and how to make reasonable use of the four years of college to plan for the future is like applying for a dream school step by step!
The workplace enlightenment course can be said to be a compulsory course for college students! As important as your studies in college! By learning workplace skills, you can not only help you lay a solid foundation for future job hunting, but also be more calm in your future work!
06
Advice for fellow students
I think maintaining a good grade point average in the 11th grade is very important for applying to colleges. If the grades in the 11th grade are always good, the university may give an early offer. Secondly, when choosing a course, you should see how the teacher of this course usually scores, and you can ask the seniors and sisters of the same school. Having a high-scoring teacher can be very helpful during the college application phase. In the end, there will be a lot of pressure when applying, especially the 12th grade class is relatively heavy, so it is necessary to combine work and rest. Finally, good luck with your application!
11th grade exclusive benefits! !
Sign up now for planning package or university application package
Attention 11th graders! !
You'll get free background boosts for up to 4 months!
The students who started planning a month ago are already one step ahead of you!
Compared to grade 12 restart planning
You still have 4 more months to win at the starting line! !
Hurry up and be the academic advisor of Didi! !
If you are also eager to apply, you want to apply to the top universities in Canada
But I don't know how to do background enhancement
No matter where you are in high school
Or have any questions about studying abroad
Now is the best time to start preparing!
👇Scan the QR code of academic advisor for free consultation
Rotman Offer Appreciation:
---