10 apply for 10 in! Ivey, Schulich! I want all the offers from top business schools!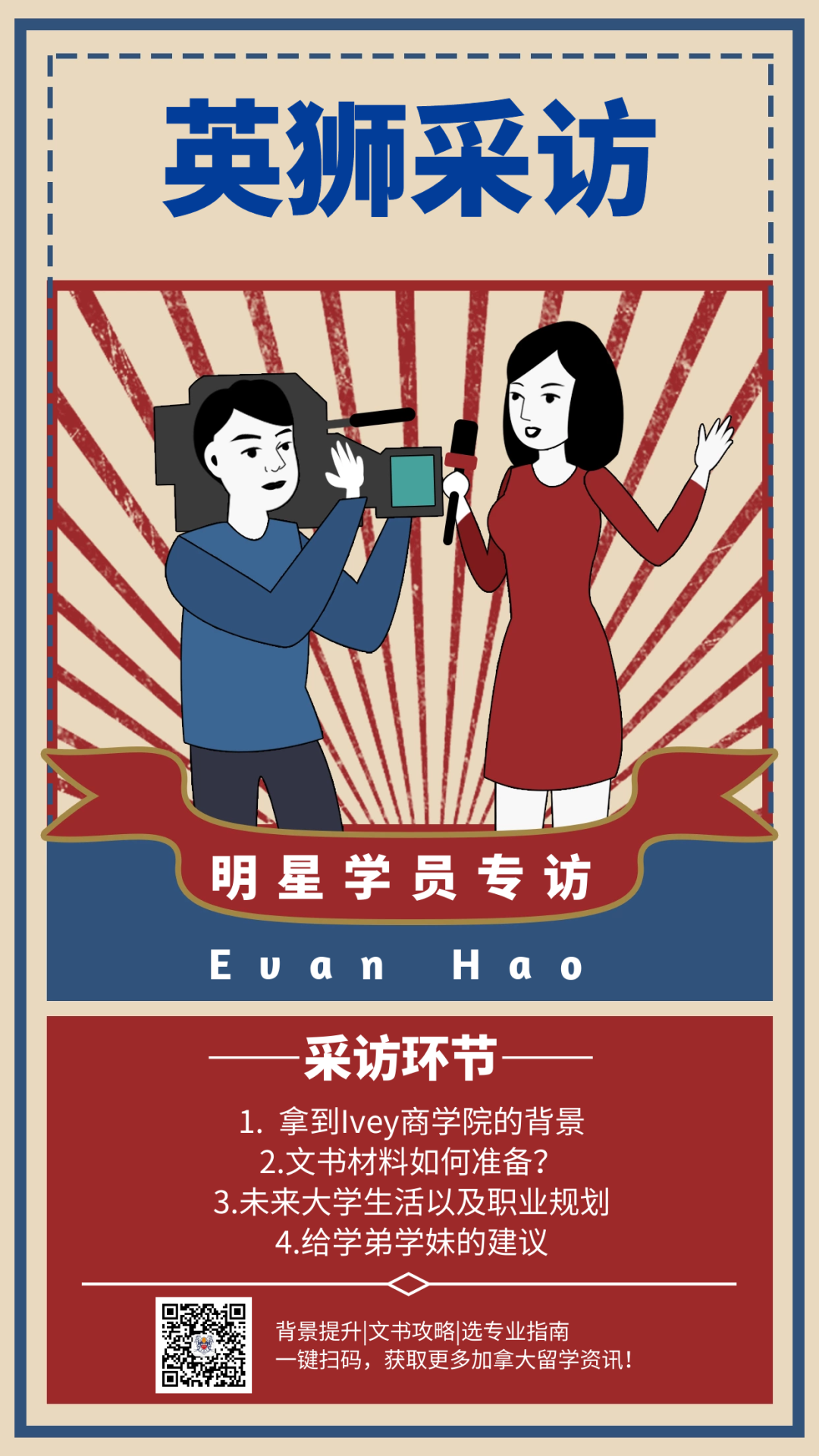 U.S. Lion star student Evan Hao 10 Shen 10, let us all see how she did it!
#harvestOffer
University of Western Ontario - Ivey School of Business AEO
York University - Schulich School of Business (Scholarship $2500)
University of Waterloo - AFM (COOP) (Conditional Scholarship)
University of Waterloo - FARM (COOP) (conditional scholarship)
University of Toronto Scarborough - COOP - Management
Commerce,

University of Toronto Mississauga Campus

(Scholarship $7500 + $12000)
University of Western Ontario - BMOS (Conditional Scholarship)
Western - King's University College
BMOS (conditional scholarship)
Queen's University College of Arts and Sciences - ECO (BAH) (Scholarship $4000)
University of Ottawa - COOP Accounting (Conditional Scholarship)
01
Harvest 10 Early Admission Offers
What background do you need to stand out?
Personally, the most important thing is diversity and uniqueness. From my personal and some friends' application experience, the students who can receive offers from business schools before April basically have very novel and interesting backgrounds;
Novelty here doesn't mean "Wow there's a new competition/ec.activity today, I'm rushing to participate so this is another proof of my strong background!" Of course, it is very beneficial to participate in these competitions related to your major. Yes, but these are still relatively old-fashioned business-type backgrounds for universities, and as competition has intensified in recent years, maybe you have it, and other applicants must have similar ones. So that's why your background should be diverse and unique.
For me personally, in the past three years, in addition to participating in more traditional business background competitions such as How Big Model United Nations, DECA, 100+h. Official Volunteer or UForse Entrepreneurship Competition; I also participated in I am a non-profit organization certified by the Canadian government - WSSC, and I am fortunate to participate in the management. I am also a small up master of visual data production at station B. In addition, I have often participated in some official science and technology or drama activities in the school in the past few years.
These latter ones may not have much to do with the business background, but they have the opportunity to fully reflect your leadership, market practical ability, and let the university know that you are not a "writer" who only learns.
I think these are very important for my application this year. Friends can think about their favorite extracurricular hobbies, and then try to get something according to their own interests.
Don't worry if you can't do it yourself or have less influence, no matter what you do, these things are created by yourself! I believe this is one of the important weights for me to receive a satisfactory offer.
Finally, international volunteering is also a potential background improvement worth considering. I personally participated in the 11-day international volunteering service in Kenya last March as one of the extracurricular experiences in applying for business school.
Little Lion application tips: Students who apply to Canada's top business schools come from all over the world. The competition can be said to be quite fierce. As Evan said, if you have a background improvement project, others may also have it, so such a background will not have a competitive advantage. .
From Evan's activities, we are going to talk about the common planning problem: plan as early as possible, the earlier you start, the stronger your resistance to pressure during the application season!
02
actively participate in extracurricular activities
How to do schoolwork?
Don't follow the trend except for the required courses! Don't follow suit! Don't follow suit! You can choose according to the actual situation of the school teachers and your own interests. Interest is really important because sometimes it directly determines your final course results.
In addition to business, I personally chose technical communication: TGJ4M (selected in grade 11 -100%) and Canadian and International Politics: CPW4U (98%) and the average scores of these two courses in our grade are about 80 or more respectively. Advantages will be more pronounced.
In addition, it is suggested that if you have the opportunity, you can start taking the 12th grade courses in the 11th grade, which will help you reduce the burden in the 12th grade.
Little Lion Tips: If you want to apply to the top five business schools or top polytechnics, this means that all your competitors have very strong standardized scores and flashing event materials. This is why there are many students who, despite having an average score of 90+, still fail to receive the offers they want during the application season. The battle to equalize the grades is a tough battle; we have to fight for every point, maybe just one point difference, you will miss your dream school.
Therefore, learn the 12th grade courses in advance in the 11th grade, build a good knowledge framework of basic subjects, and improve the understanding of the knowledge points and frameworks. By familiarizing yourself with the teaching mode and classroom characteristics of Canadian high schools, choosing prerequisite courses can help to pass the important courses of high schools. And get ready for college applications in advance!
03
Ivey's preparation experience
Although Ivey does not need an interview, the preparation of the paperwork is absolutely hell. You need to prepare 2 main activity experiences + 5 auxiliary experiences, and you also need to fill in alumni recommendations, non-academic awards, etc.
The most important thing is that all of these 7 experiences need corresponding references (eg event organizer, stakeholders) to prove that your experience is true; therefore, be sure to keep in touch with them.
(PS: I personally think that Schulich should be the most difficult for the business school that needs to be interviewed this year. In addition to the many questions, you will also face some interesting but slightly alternative questions, such as how to survive in an isolated island with limited resources 3 days)
Little Lion Tips: Ivey Business School's documents need to be prepared in advance when recommending specific activities in humanities writing with key points and highlights.
04
How did the clerical teacher help you?
After I applied for RC, my teacher was Tracy Li~Tracy is a very patient, efficient and humorous teacher. She gave me a lot of very accurate and crucial advice. Therefore, I personally recommend Mr. Tracy as a tutor for my friends.
Little Lion Tips: A good essay is by no means the same, and each essay teacher has different teaching and tutoring styles, so you still need to find a teacher who fits your own essay thinking/writing habits in order to make your essay stand out!
05
What are your ideal university life and future career plans for the future?
At present, the choice of the university cannot be given to the final results of the small partners, because there may be other opportunities to get other offers~ But then I will choose the most suitable university major according to my own situation! The imagined college life may be bald + watching the sunrise at 4 o'clock. Hope to keep working hard in the future! Get more conditioner!
Little Lion Tips: Getting the dream school offer is just the first step in the long road in the future, and congratulations on starting this step. The four years of college are fleeting, and how to rationally use the four years of college to plan for the future is like applying for a dream school step by step!
06
Some advice for students in grades 10 and 11
There must be a balance between study and life! Set aside time during the week for yourself to rest or play games ~ 10th graders can look for extracurricular activities to enhance their background. 11th graders, don't put too much pressure on yourself, we all come here like this (。・ω・。)ノ Calm down and make things better! come on!
If you are also eager to apply, you want to apply to the top business schools in Canada
But I don't know how to do background enhancement
No matter where you are in high school
Or have any questions about studying abroad
Now is the best time to start preparing!
👇Scan theQR code of academic advisor for free consultation
Some Offers to appreciate:
---